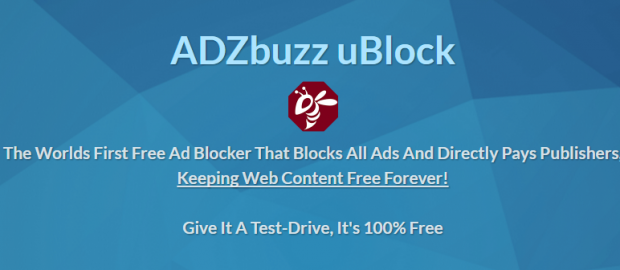 Hey guys! Today I would like to talk about a new tool that I came across a few days ago and that literally blew my mind.
The tool is called AdzBuzz Ublock. It's a free extension that you can add to your browser. It works with Chrome, Firefox, Opera and Edge (previously known as IE). The extension has been developed by a company called AdzBuzz.
AdzBuzz is a new community where people meet up, hang out and share stories that they find interesting. They also visit the community to read about their favorite topics and interact with each other. Once you become an AdzBuzz member, you automatically are given the link to download your Ublock extesion to install on your browser.
What's in it for you as a web user?
Once you install the extension, you will be able to surf the web 100% ad-free. No more annoying ads popping up at you every time you enter a website, no more content lockers of any sort etc.
Watch the quick video below to see how it works
What's in it for you as a publisher?
If you own a blog and you install the AdzBuzz script, the platform will reward you for every visitor that lands on your site who has the extension installed on their browser.
Not only does the platform pay you for installing the ad blocker, but it also allows you to get more traffic and more eye balls on your content. Once you publish new content, you can simply go to AdzBuzz and share it with your community. When people read your content, if they like it, they will share your link and you will end up having even more organic traffic.
With regular ad blockers, and especially with the increase in number of web users that are aware of them, it has become very difficult for publishers to make money with native ads. This problem has also affected a lot of advertisers unfortunately. With Ublock, advertisers also have the benefit of only serving their ads to a targeted audience who has already expressed an interest in buying a certain product.
How does AdzBuzz pay you as a publisher?
When advertisers pay for a placement, AdzBuzz takes part of that money and distributes it among publishers according to the number of visitors who landed on their websites or blogs.
It's all free by the way, so you may want to check it out.
I think it's a genius idea if you ask me…