Video SEO: Does it Still Work?
Video SEO has been around for quite a while and is here to stay. It has been changing a lot and, although video ranking is much much easier than ranking a written piece of content, there are unfortunately a lot of people who still get it wrong and don't get their videos ranked on YouTube.
One of my favorite people online and one of the rare people in the internet marketing world who actually does what he teaches, Adam Payne from VMI, has been kind enough to generously offer me this checklist to share with you.
This is a comprehensive list of video SEO steps that you can follow every time you want to rank your videos in YouTube.
With this formula, you are almost guaranteed to rank pretty high in YouTube search results and outrank your competition. Obviously, if you go after an extremely competitive keyword, it will take longer. I mean, we have to be realistic here!
This is quite a long checklist, so you might want to bookmark this page to come back to it as many times as you need. You can check every step as you go to mark it done, as you can see below: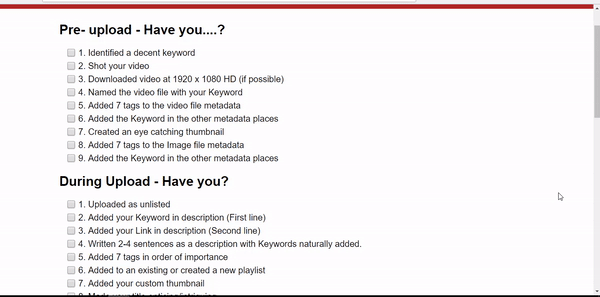 Alternatively, if you would like to keep it on your desktop for future reference, I suggest you download it and save it on your computer.
Click Here To Download The Checklist
I have actually been able to use this checklist myself to rank a video with quite a competitive keyword! Watch the video below to see my video ranked high in the search results:
So without further ado, here's the checklist:

Wait for several days before attempting backlinking or embedding campaigns (only needed for Google, not YouTube rankings).
Click Here To Download The Checklist
To learn more cool tips about video SEO, check out www.videomarketinginsider.com
Most video marketing courses only teach you what to do after you upload your video. This checklist shows you what you need to do before, during and after your upload. That's what makes it comprehensive. 
I really hope you have found this checklist useful and I would love it if you share and leave your comments below. 
Good luck with your video SEO!