21 Lead Magnet Ideas That Will Grow Your List Like Clockwork!
Lead magnet ideas: a lead magnet is the best way for any blogger, website owner or online marketer to build their list in the quickest time possible. If you don't have a lead magnet on your website, you're basically throwing away all your traffic because you have no way of capturing those visitors.
So, today I would like to share with you a few lead magnet ideas that will help you start building your list from the get-go.  But before I start…
Lead Magnet Ideas: What is a Lead Magnet?
A lead magnet is a free gift that you offer to your readers/visitors in return for their email address. It's what we call an "ethical bribe" in online marketing terms. It's basically something awesome that you offer for free and that people should want to get on it, but in order to do that, they have to give you their email address. Why did I say awesome? Because there is so much crap online nowadays that you really need to stand out from the lame IM crowd (yes, I just said that) if you want people to subscribe to your list. You need to offer something truly amazing if you want to make an impression.
A lead magnet is a free gift that you offer to your readers/visitors in return for their email address. It's what we call an "ethical bribe" in online marketing terms.
Click To Tweet
Remember, an online business is all about relationships. Your lead magnet and the impression it gives to your potential subscribers is the first thing they will know about you. Once they sign up, you will start building relationships with them so that they know you better and start liking and trusting you.
Can't Read It Now? Click Here To Download the PDF
So now that we got that explanation out of the way, let's dive in. Here are 21 lead magnet ideas that will help you build your list pretty fast. This post is quite long, so feel free to download the PDF version and save it on your hard drive for later use. So let's dive right in..
1. Content Upgrades:
In case you don't know what a content upgrade is, it is simply a PDF version of your blog post that you offer to give away in return for people signing up.  I have written a blog post about content upgrades, you can check it our here.
Content upgrades are a great option for a lead magnet; especially if you write long posts that need a long time to read. You offer people the option to download your post and read it later. It's very convenient for your readers.
Watch the GIF below to see what one of my content upgrades looks like: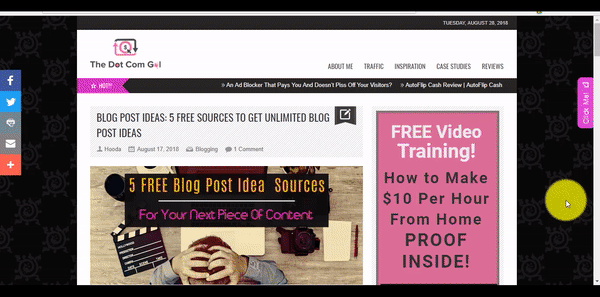 If you would like to see the page I am showing in the GIF, you can click here. Also, the download button you saw in this post is a content upgrade!
2. Cheat Sheets:
Cheat sheets are great because they save your prospect a lot of time and and thinking. They are basically short and to the point step-by-step guides that your visitors can use to get something done over and over again. They mainly are divided into different steps with explanations.
For example, one of my favorite bloggers out there, Kim Roach offers a traffic cheat sheet as a blog post, but then uses the the content upgrade method to capture her visitors. Check it out here.
3. Checklists:
Checklists are a little similar to cheat sheets; except that they come in a bit of a different format and they give people guidelines on what to do without really explaining. Most checklists come as an extra piece of content to a blog post or video.
For example, if I make a video about how to promote your next blog post, I would explain everything in the video, then as an extra, I would offer a checklist that you can download and use as a guideline to follow every time you want to promote your blog post.
A great example of a very interactive checklist is something that one of my online marketing buddies, Adam Payne allowed me to offer to my subscribers. It's a video SEO checklist that helps you rank your videos on YouTube. I highly recommend you check out his blog; he got some pretty good tips to offer there.
Here's what the checklist looks like: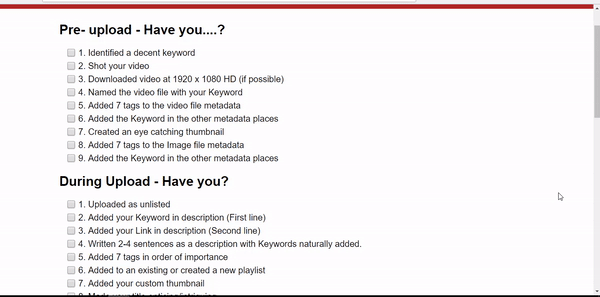 As you can see, this is another level of checklist where you can get things checked after you have done them. If you are tech savvy and you can create something like that, it's one of the many great examples of lead magnet ideas. 
GRAB THE CHECKLIST HERE IF YOU'RE INTO VIDEO MARKETING 
4. Video Tutorials:
Video tutorials and training are an excellent lead magnet idea. If video marketing is part of your strategy, while creating and publishing great content on YouTube, you can also keep some stuff only for people who subscribe to your list.
Also, a lot of people prefer learning by watching instead of reading; so this is a great option for you if you like creating videos.

I have a video training that I offer on my YouTube channel and I keep it only for people who subscribe.
Can't Read It Now? Click Here To Download the PDF
5. Graphics Packs:
If you are in the graphic design niche, one thing that you could offer is a pack containing graphics that people could use on their websites. People love done-for-you stuff like banners, logos, e-book covers etc.
In fact, even if you're not good at graphics, you can hire someone to create them for you, then you can offer them as a lead magnet to different niches. 
6. Stock Photos And Videos:
Every blogger and every online marketer needs images for either their blog posts, sales pages, ads, video thumbnails, you name it. 
If you have a pack of stock photos or videos, you can offer that as a lead magnet to your subscribers. However, make sure you have the rights to give them away.
7. Social Media Images and Graphics:
This is another one of my favorite lead magnet ideas. Social media is all about pretty-looking things and nowadays more and more people use social media to promote their content; whether it is Facebook ads, Twitter cards or Pinterest boards, visual marketing has taken over in the past couple of years.
A lot of people spend way too much time looking for or trying to create the perfect social media visual they can use for their next post, ad or whatever. Offering a media pack like this will save them a lot of time and guesswork.
Here's a great example of a squeeze page that offers this.
8. Software:
Are you a coder? Or do you have the ability to have someone write a piece of code for you and create a little piece of software to solve simple problems? If you do, then this is an amazing lead magnet example you can offer to your subscribers.
One of my favorite people in the internet marketing world, Andy Brocklehurst has a great example of a software lead magnet. You can check it out here. First he shows you how you can use the software then he shows you how to get it (watch video to be sure this is what it is).
9. WP Plugins:
If you own a WordPress plugin that you sell, you can create a lite version of it and offer it as a lead magnet. This helps you build your list and make some quick cash if the user decides to upgrade to your pro version.
10. WP Themes:
You can do the same thing with your WordPress theme if you own one.
11. Slide Templates:
Slides are super hot when it comes to video presentations and video courses. However, having a really enticing and eye-grabbing design is not accessible to everyone. Are you a designer? Have you ever thought about creating a slide template for your potential clients and/or readers? If you're not a designer, you can also get it outsourced and just offer it on your site as a lead magnet.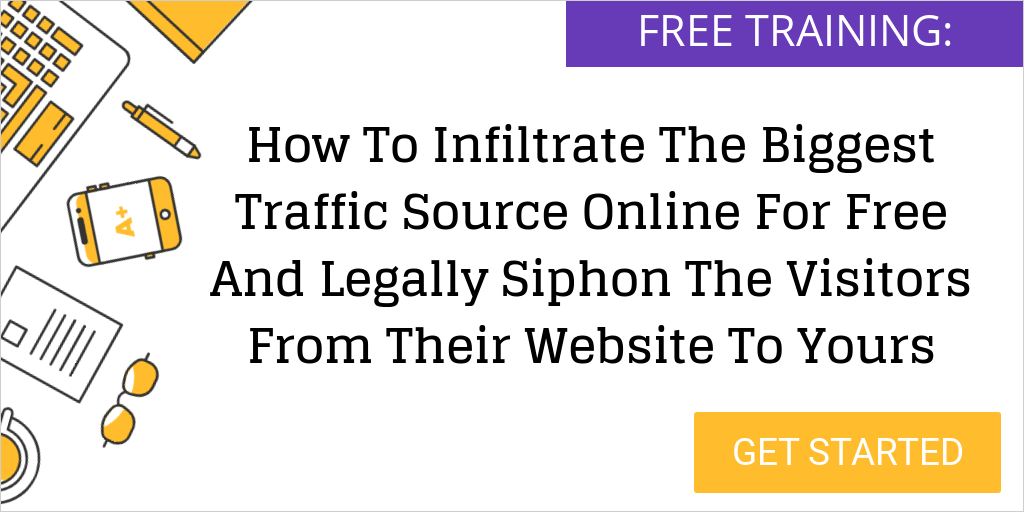 12. Infographic Templates:
Yes, I know, I love all things graphics. Infographics are the new black when it comes to list posts, tips, recipes, hacks and pretty much all sorts of content. People love infographics because they can get the summary of the article without having to go through every little detail when they don't have time to read. If you are able to design a few templates, you can offer them as a free gift in return for your visitors' email address. This is one of my favorite lead magnet ideas.
13. Email/Subject Line Swipe Files:
One of my favorite email guys, no… scratch that… My FAVORITEST email guy is Ben Settle. The guy is a God when it comes to copy and we all know it. He is famous for his amazing monthly newsletter called Email Players, but he also offers a PDF with some cool email tips; especially subject lines that you can model after/get inspired by. If you are a good copywriter, you can offer something similar as a lead magnet. Get some of your best performing emails or subject lines and offer them as a bundle to your subscribers. They will thank you for it.
14. Case Studies:
Have you had success trying a particular method that helped you get loads of traffic, build a list or make a certain amount of money online (if you are in the IM niche), or have you tried a diet that worked for you? Maybe you have been able to get rid of a problem a lot of people are complaining about? You can explain how you did it and share your results in a case study and offer that as a lead magnet.
15. Teaser:
If you have a book or a video course, you may offer the first 2 chapters as a teaser in return for your visitors' email address.
16. A Seat At Your Upcoming Webby:
If you have a webinar coming up. Offering a free seat would be a good lead magnet.
17. Email Course:
You can invite your visitors to subscribe to your list and in return, you can send them an email course over the following 5 to 7 days. Don't make it too long though because people lose interest quite fast these days. Keep it short, sweet and to the point. But most importantly, deliver.
18. Image Quotes:
Pinterest and Instagram fans are crazy about image quotes. As we all know, Pinterest and Instagram are visual social media networks and some niches use a lot of image quotes. You can create/have someone create a bundle and offer it as a lead magnet.
19. Coaching:
Are you a coach? If you are, you can offer your first coaching session for free in return for an email address.
20. Coupons/Discounts:
If you have a course or a product coming up, you may offer an early bird discount to whoever signs up to your list.
21. Your Vault:
If you have multiple lead magnets, you can bundle them up and offer them all in one large lead magnet. This will come in handy if you are doing a holiday giveaway for example. People love gifts around the holidays and they will definitely like having all of them in one place instead of signing up to multiple lists.
Can't Read It Now? Click Here To Download the PDF
I hope you have enjoyed reading this post. Sorry if it is too long. You can always download it by clicking on one of the buttons on this page if you want to read it later. If you have any questions or comments, please feel free to reply below. I would also love to know your lead magnet ideas!